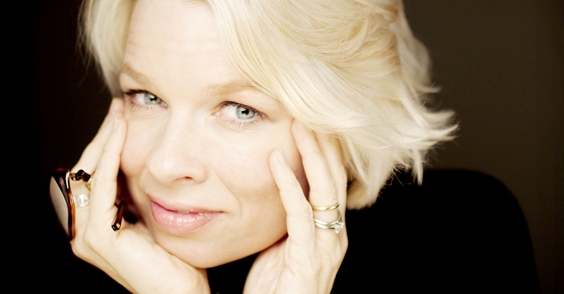 Linn Ullmann på prestisje-liste
Linn Ullmann (bildet) og Karl Ove Knausgård er å finne på New York Times' liste «100 Notable Books of 2014».
Både Karl Ove Knausgårds My Struggle – Book 3 og Linn Ullmans The Cold Song er norske innslag på New York Times liste over bøker det er verdt å merke seg fra året vi snart har lagt bak oss.
Listen sier mye om den sterke posisjonen norsk litteratur har i USA akkurat nå: Blant New York Times' hundre utvalgte er ingen av de øvrige nordiske landene representert, men altså to norske. Er vi rause er det egentlig to og en halv: Siri Hustvedt – amerikansk statsborger, men definitivt med norske røtter – er også på listen, med sin sjette roman The Blazing World (norsk: Denne flammende verden, Aschehoug)
«No one escapes»
Linn Ullman er inne på listen med The Cold Song – for norske lesere bedre kjent som Det dyrebare (Oktober). New York Times' anmelder Leah Hager Cohen skriver følgende om boken: «Although this sounds rather gothic, and although Ullmann does work in quite a bit of mist — along with drizzle and rain and fog, not to mention cotton sails, fluttery tablecloths, filmy white dresses and rustling silk — her characters are haunted by matters more worldly than spectral: infidelity, resentment, shaky finances, physical and emotional violence, and, most corrosively, guilt over their own lapses and shortcomings. More than anything, this is a novel about culpability, and no one escapes Ullmann's exacting gaze. Even victims and innocents. Even, perhaps, innocence itself.»
«Knausgård-frie dager»
De som har fulgt New York Times' kultursider det siste året, vil neppe være altfor overrasket over å finne Karl Ove Knausgård på listen. Avisens anmelder, Rivka Galchen, holder ikke igjen, for å si det slik: «An international best seller, "My Struggle" has been acclaimed, declaimed and compared to Proust. It is said that Norwegian companies have had to declare "Knausgaard-free" days — no reading, no discussion — so work can get done. All of which means whatever it means, but even a skeptical reader, after a few hundred of any of the volumes' pages, will concede it is highly likely that "My Struggle" is a truly original and enduring and great work of literature. Yet it is an original and enduring and great work of literature that produces the sensation of reading something like an unedited transcript of one man's somewhat but not all that remarkable life, written in language that is fairly often banal.»
Du kan se hele listen her.
(Foto: Forlaget Oktober)